Calling all foodies! If you love food and are heading to Paris, this post is for you. If you love food and simply want to drool over delectable fare, this post is for you. If you want a step-by-step food tour through Paris, I've got you covered.
Okay, so, my boyfriend and I headed to Paris in the spring, which apparently is one of the best times to go there, and since we had an entire week to travel and roam around, I asked him if he wouldn't mind me hijacking an entire day so we could hone in on one of my favourite ways to see a city: through my belly. He was totally, 100% on board.
So, the night before, as we hung out in our hotel room, I came up with the plan. I found all of the spots I wanted to go, pinpointed them on a map and figured out the best order to taste everything so that our palettes wouldn't get overloaded with sugary treats and so we had actual meals in between the sweet stuff.
Armed with my Rogers Roam Like Home plan, we hit the city to eat our faces off.
(Okay, quick tech break for a sec: do you remember the days when you had to worry about getting an International SIM card or worse yet, turning your phone off for your ENTIRE visit? Ya, me too. It was terrible…
My man and I were chatting about this and we were saying that a day like I had planned, which was HEAVILY GPS and Google Maps reliant, would NEVER have been possible before these new cell plans. Now though, my plan lets me roam freely for just an extra $5/day, which keeps my costs super low and allows me to enjoy my trip, upload photos to my social accounts, etc. etc. without getting home to an insanely large bill… Super cool!)
Okay, so, this Paris foodie tour is going to take you through "the best of" when it comes to sandwiches, desserts, burgers and more. Feel free to add your own personal recommendations in the comments below!
Stop #1 – Lunch at Cosi for the Best Sandwich in Paris
Our day started with an epic sleep-in, as did most of our days in Paris, followed by our first stop on the foodie tour — Cosi.
Cosi is well-known for their sandwiches and we were not disappointed. The menu features really interesting combinations that use fresh ingredients and gave us something we had been longing for: healthy, delicious food.
You can eat-in or take your food to go but I highly recommend taking a load off and having a seat in their upstairs cafe. Super cute and a great place to relax.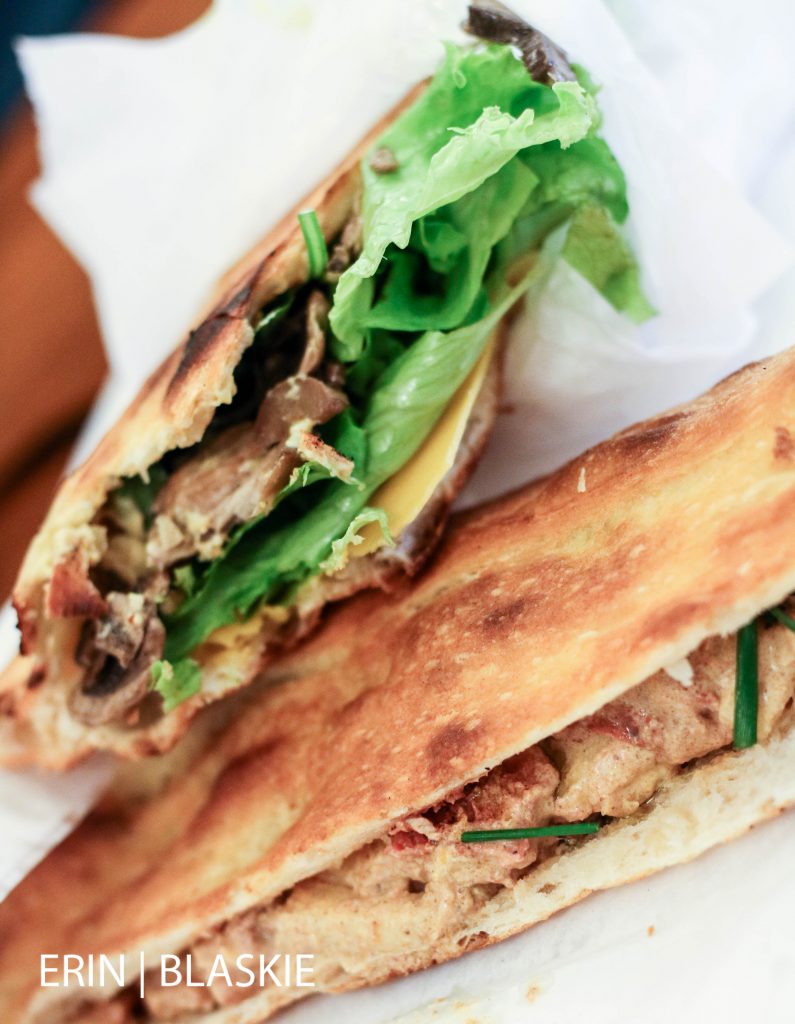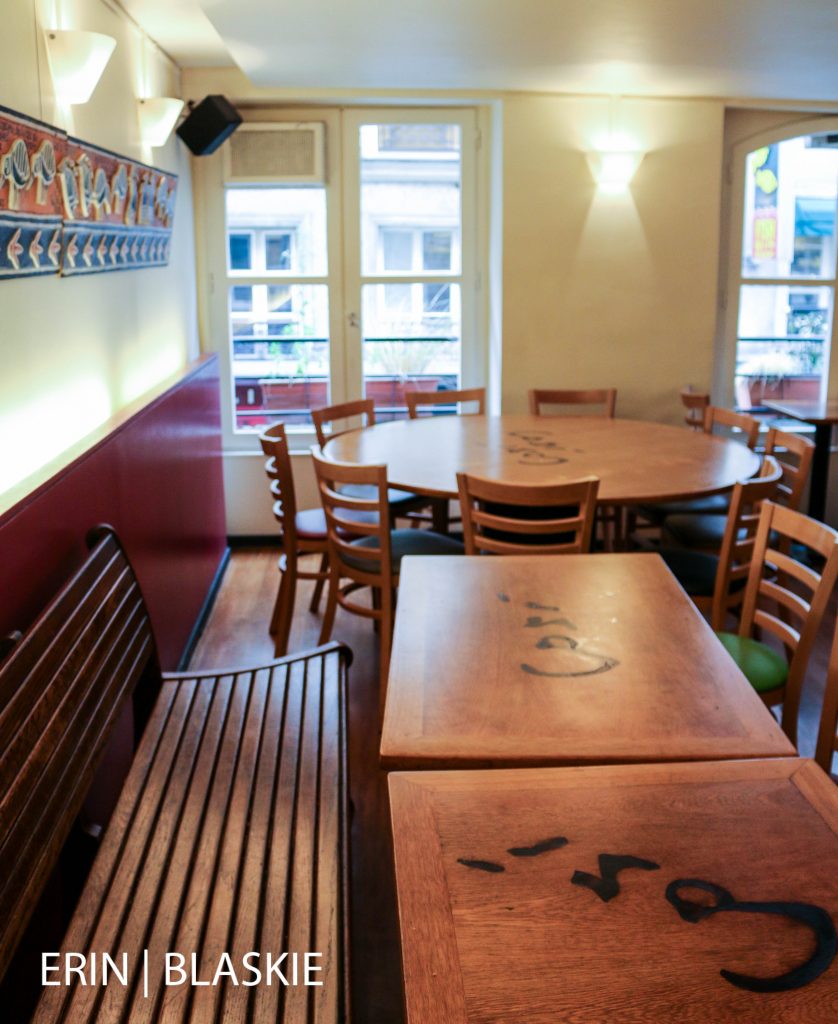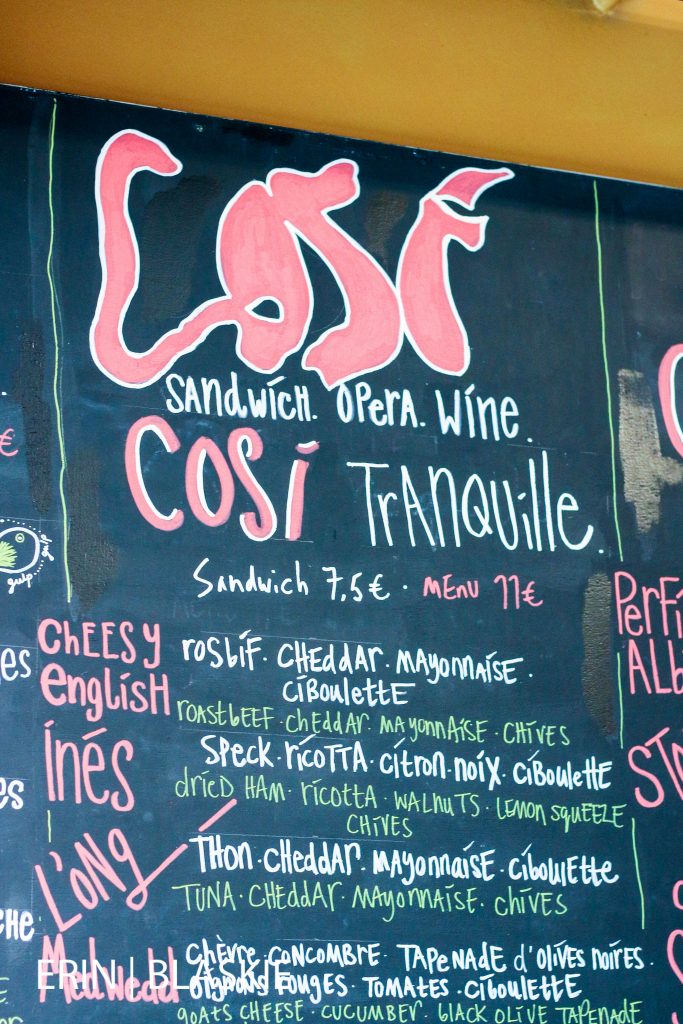 Stop #2 – Pozzetto for Gelato
When my sister and I traveled to Italy, we made it our mission to try every single gelato place we walked by. If you've ever been to Venice, you know that's a lot of gelato to consume. Up for the challenge in Paris, we looked for the best gelato place and found it: Pozzetto.
Pozzetto is in a really cute part of the city, too, near major subway stops, which make getting there pretty easy. There is a little open air courtyard nearby where we sat to eat our treat but the entire neighbourhood seems walkable so taking your cone to go and exploring is my recommendation!
And yes, I'm well aware that my photo below of my gelato in hand looks like a poop emoji. You're welcome, pop culture geeks.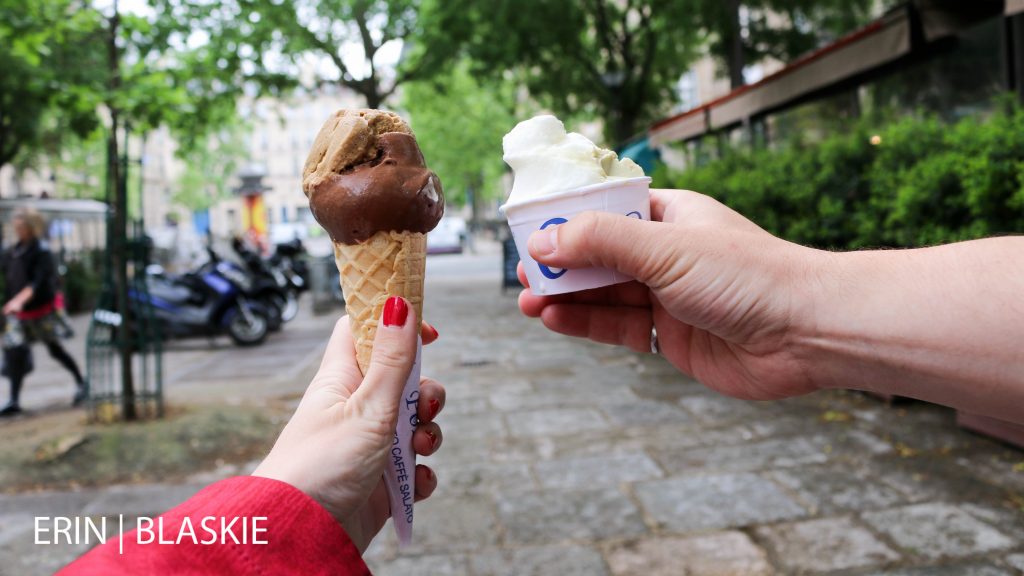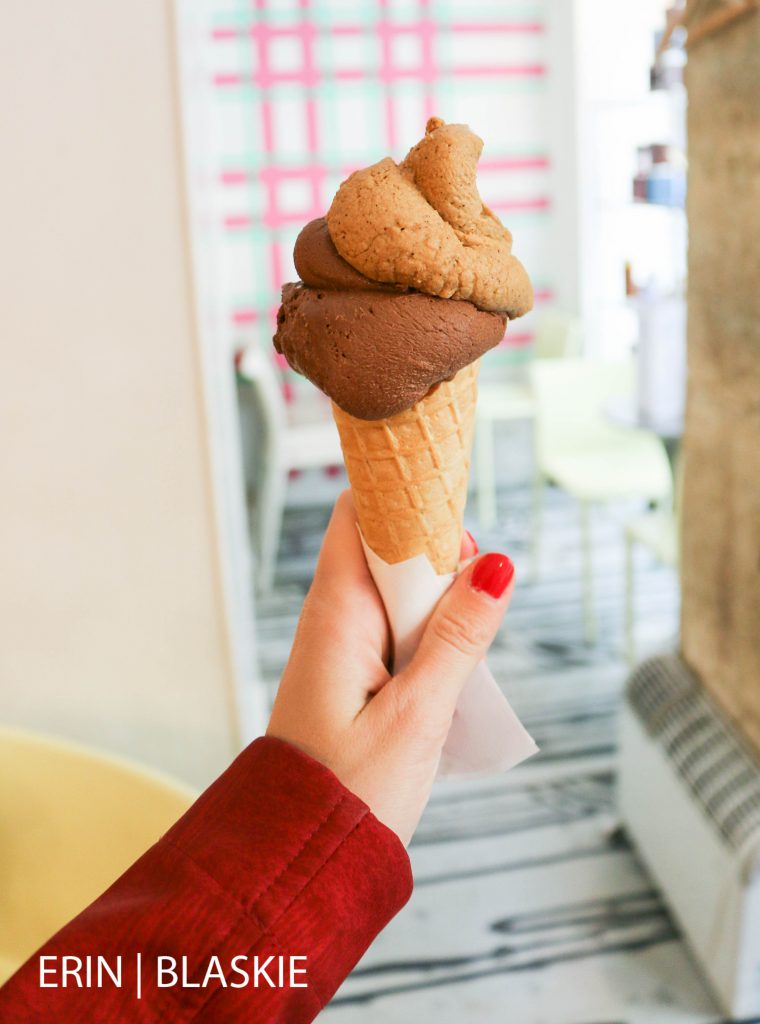 STOP #3 – Chocolatines at Du Pain et Des Idees
If you like baked goods, Du Pain et Des Idees is a must-visit (also, check out their website because their site plays a soundtrack that was recorded right inside their shop!)
Their chocolatines, aka chocolate croissants, are amazing but there are plenty of other carb-rich goods to whet your appetite. Whether you're looking for bread to pair with wine at the base of the Eiffel Tower or you want a morning sweet treat, you'll find it here.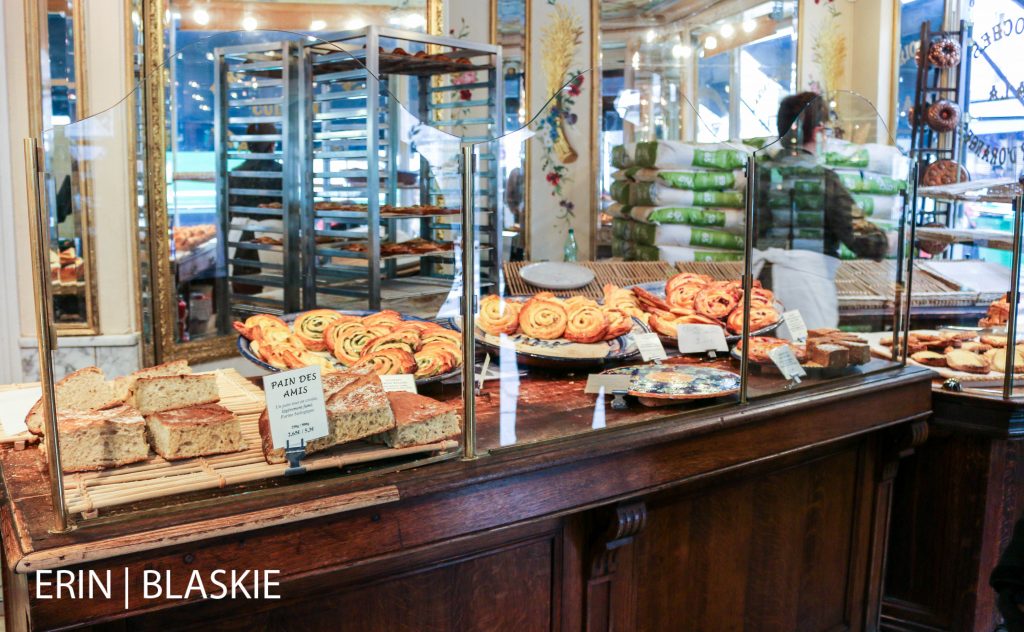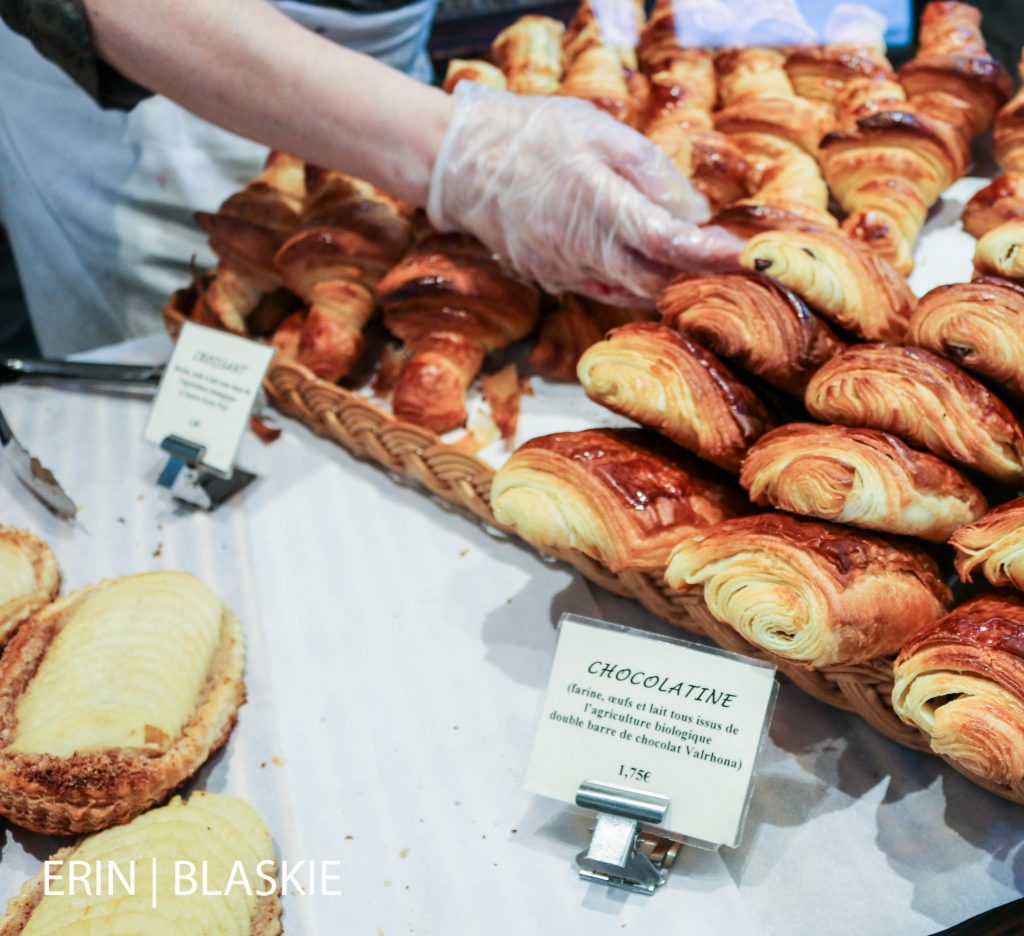 Stop #4 – Laduree on Champs Elysses for the Best Macarons in Paris
While also the most pricey of the macarons, you can't go wrong with Laduree on Champs Elysses. The rumour is that this is the birthplace of the macaron but don't quote me on that one!
Since Champs Elysses is filled to the brim with tourists, the prices here are a bit steep and the line-ups are long but the selection and freshness of the macarons make it well worth it. We got a box of six, which was perfect to sample the different flavours and enjoy for a few days.
My favourite of the "weird" flavours was rose. Tastes just like you'd imagine a rose tasting.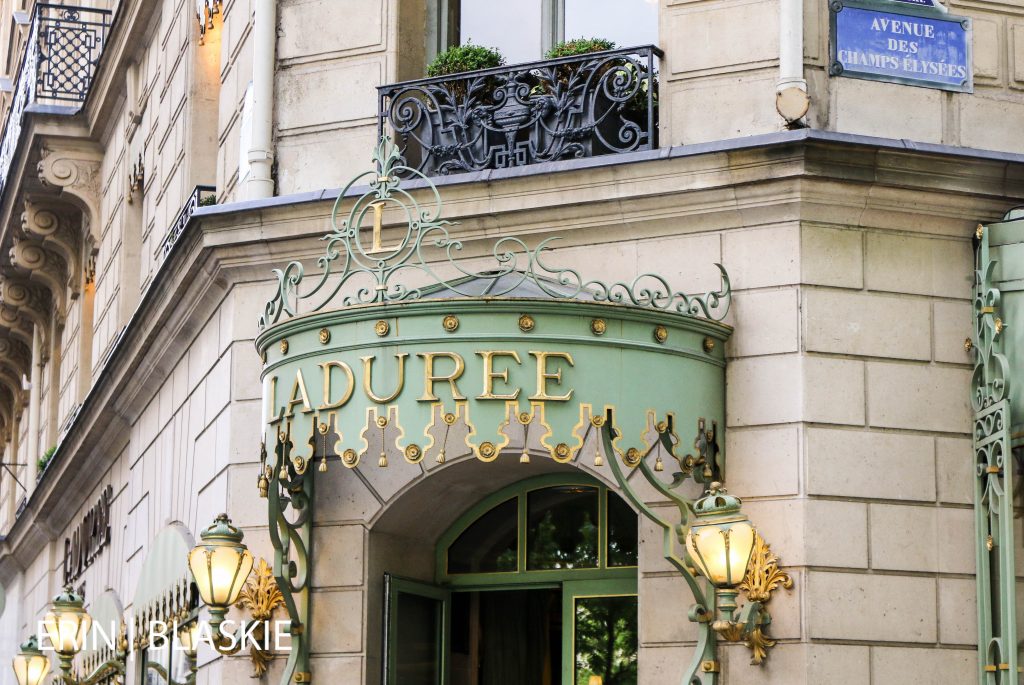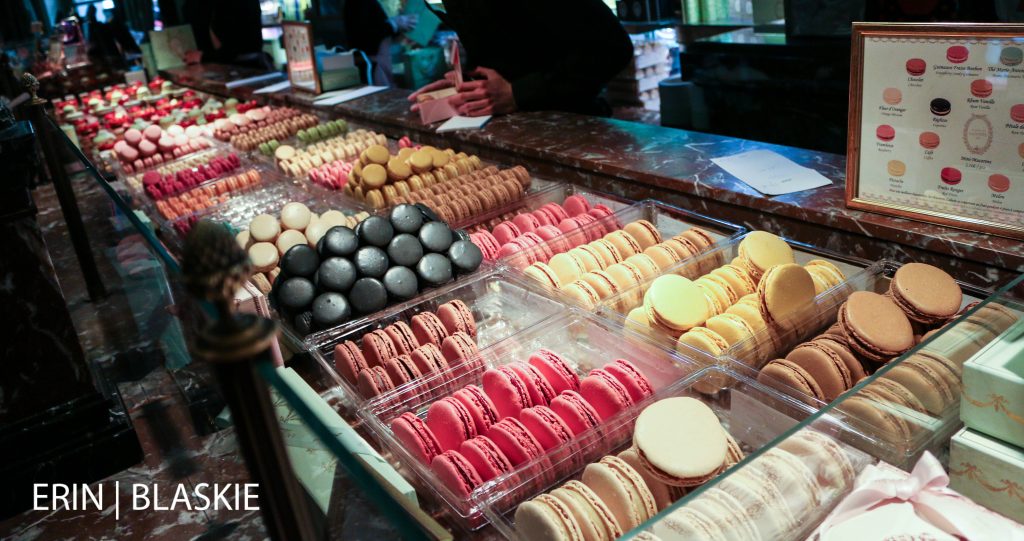 Stop #5 – Jacques Genin for the Best Caramels and Chocolates in Paris
If you want to see the most pretentious caramel and chocolate shop you've likely ever seen, Jacques Genin in Paris will not disappoint. Seriously.
I felt like I shouldn't touch anything and I had no idea how it worked (there were three or four counters, all un-manned) BUT I forged forward and bought 6 caramels for over 30 Euro as well as a box of chocolates for about 35-40 Euro.
Yes, it was ridiculously priced but the caramels were a gift for my mom and the chocolates were delicious. And… when in Paris, do like the Parisians do and spend a fortune on sweet treats. Mmm.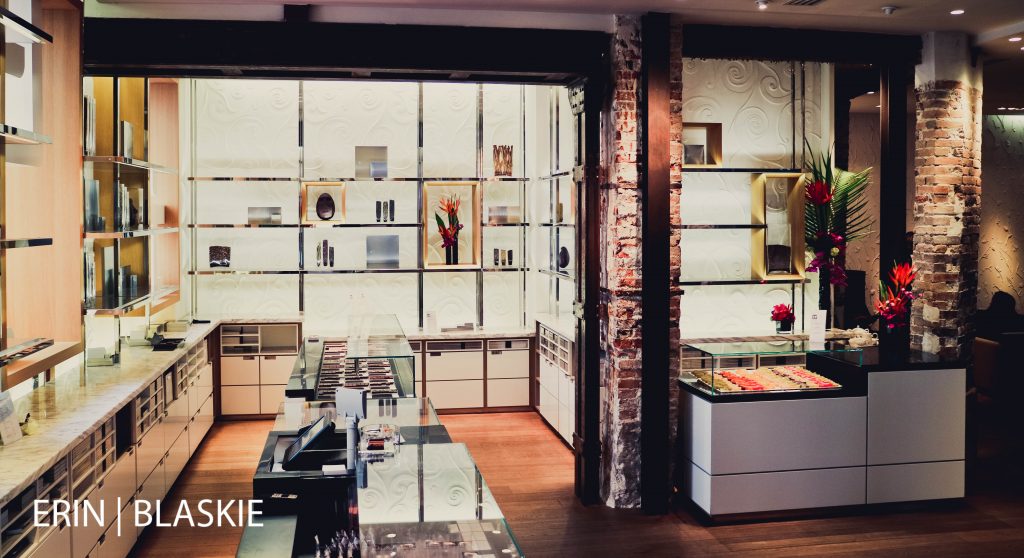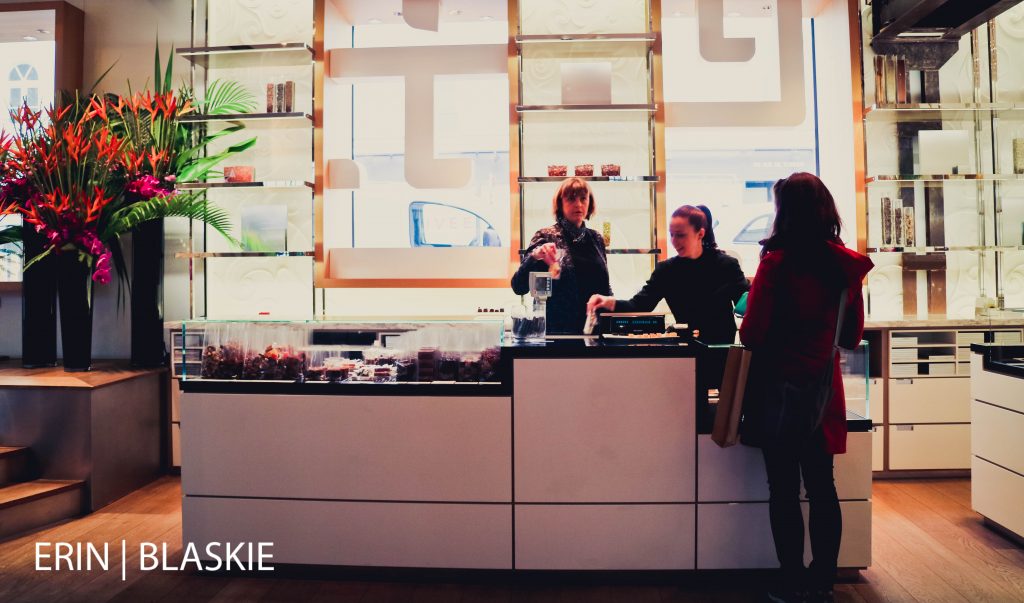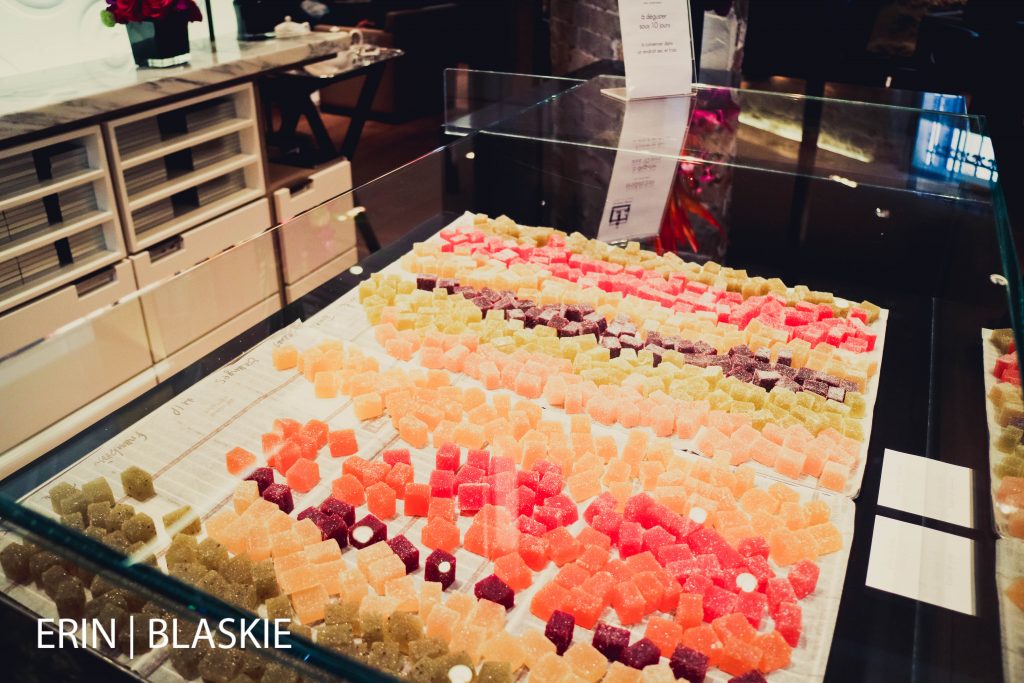 Stop #6 – Gerard Mulot Paris for the Best Fruit Tarts and Other Pastries
Oh. My. Fruit Tarts. I love me a good fruit tart so when we decided to set out to find the most delicious one in Paris, my mouth could not stop watering! Gerard Mulot has some of the best counter displays of any dessert place we visited.
I had a strawberry tart and it was SO GOOD and my boyfriend had a chocolate eclair, which he found super delicious. Their selection was really, really good and the prices weren't terrible. Definitely worth adding to the foodie tour list.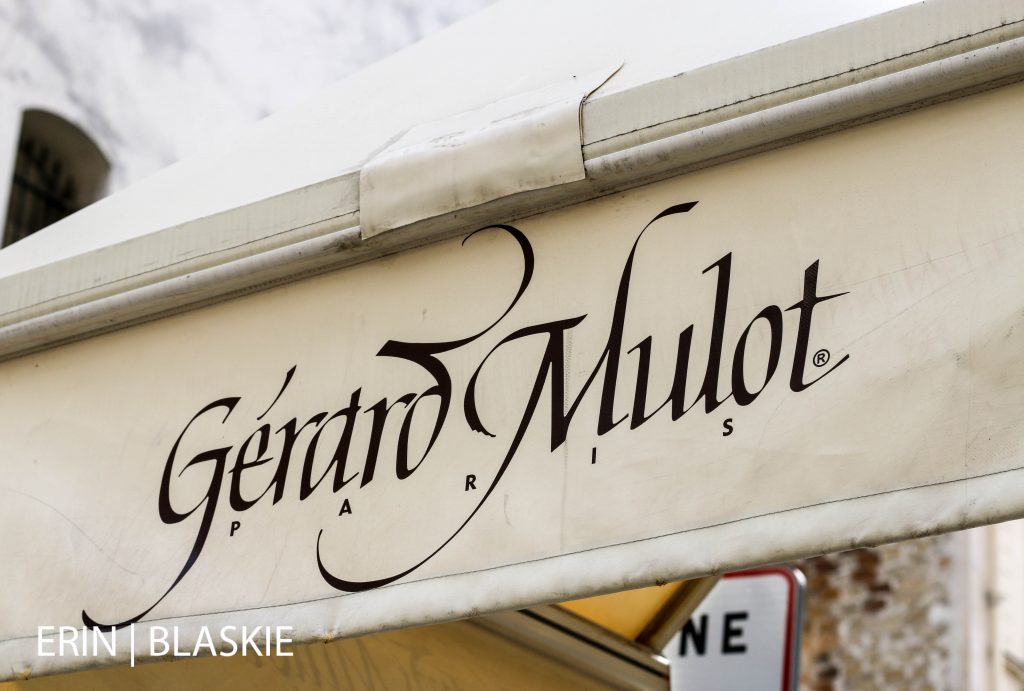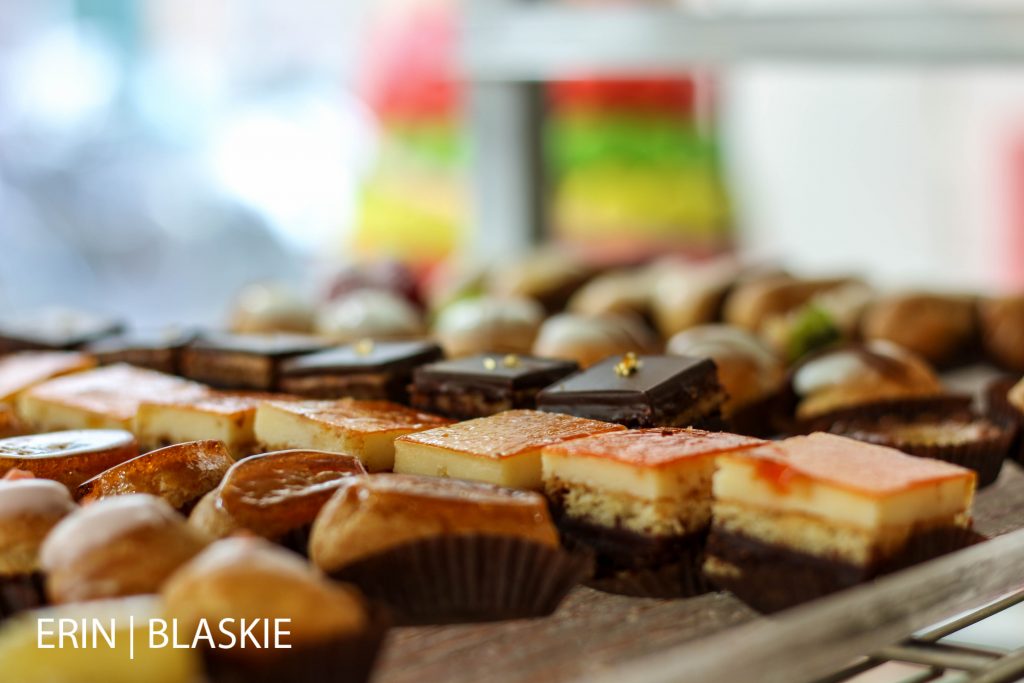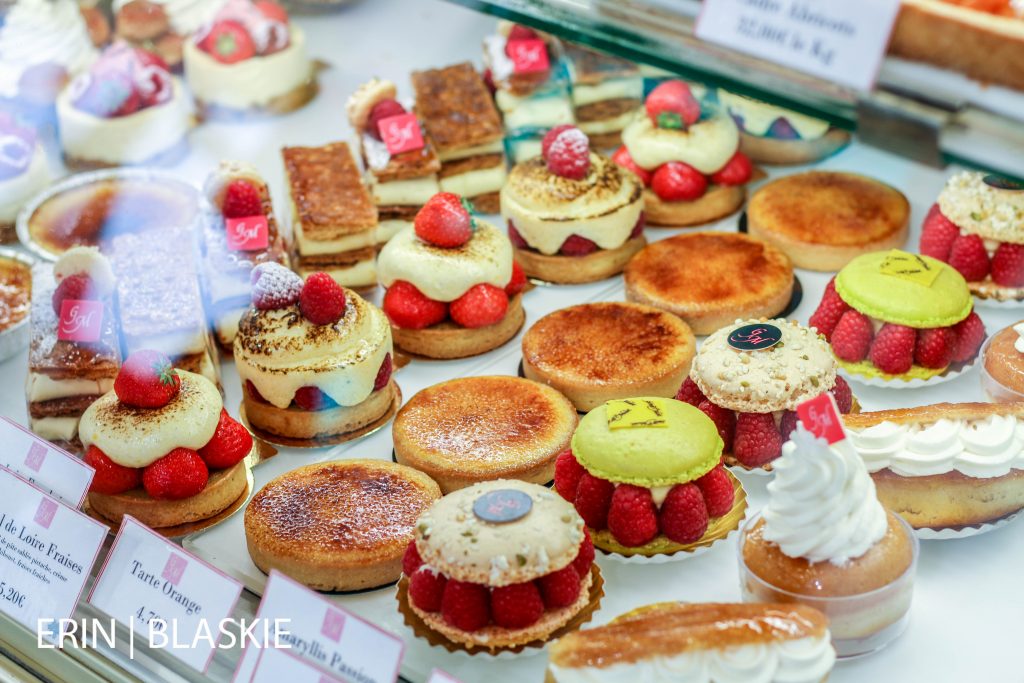 Stop #7 – Sathees Home Made for Delicious Steak Salad
After overdosing on sweets, we were ready for regular food again so we hit up a place called Sathees, which makes incredible, home made food straight from the market. I had a steak salad and it was SO delicious.
The restaurant backs out into a small market, too, which you can explore either before or after lunch. A wide range of vendors selling fresh produce, meat, cheese and more.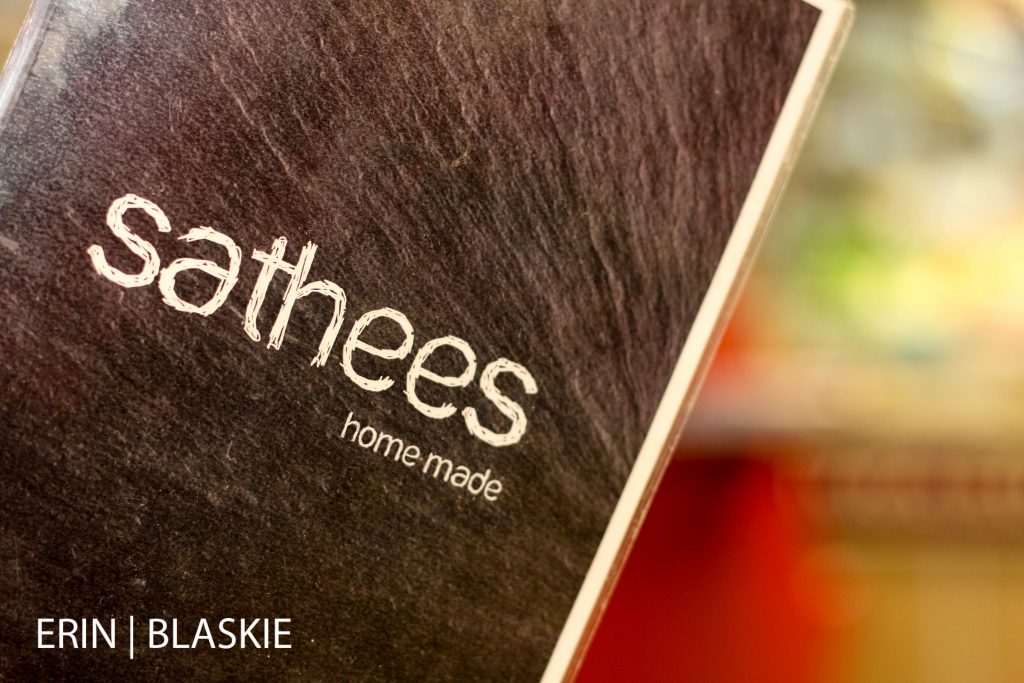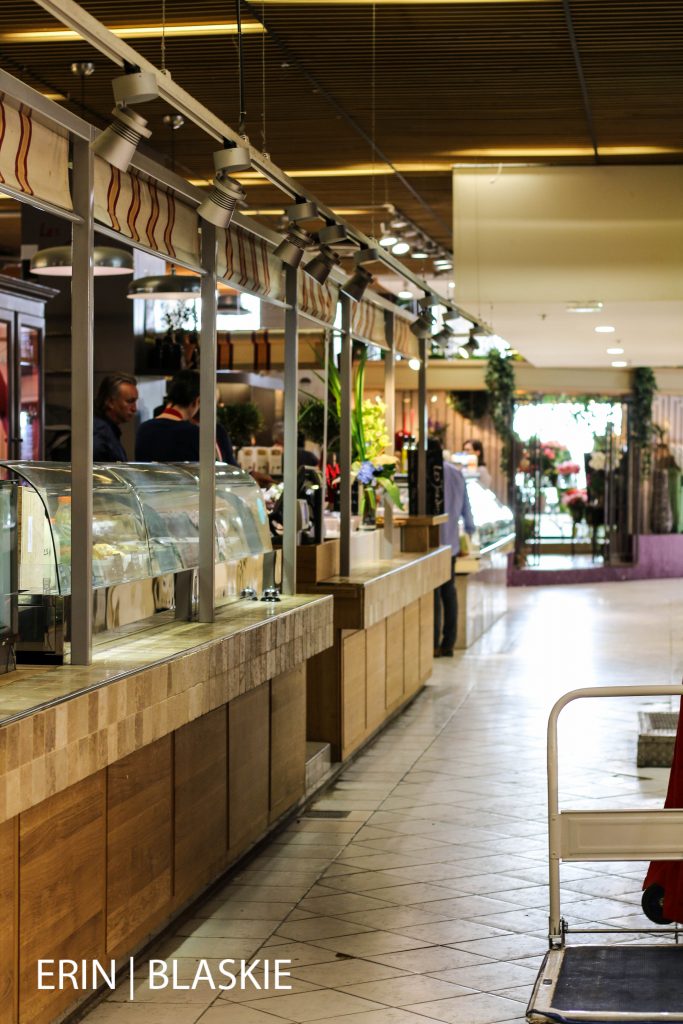 Well, that concludes our foodie tour of Paris. Highly recommend everything on this list and I'll continue to share some of the other places we ate and drank during our trip outside of food day to give you even more culinary inspiration for your trip to Paris.
BON APPETIT!