In the Fall of 1963, Josl Huter, along with his wife Elfriede, purchased a plot of land in Coldwater, Ontario. By December of 1964, the ski resort, Mount St. Louis, was open for business. Over the next four decades, the resort would undergo massive transformations. From the purchase of the Moonstone side to the reshaping of the hill to provide more of a challenge, the resort never stopped transforming to become an even better place to ski.
It was at this same ski resort that I found myself strapping skis to my feet, after twenty years of not being on a snowy mountainside, with a strong desire to put the fall I experienced when I was a child behind me. I was terrified, excited and anxious to see if I would be able to overcome my fear and get back out onto the hill.
The morning began at CasinoRama, where we were staying as part of a ski and stay package. We had breakfast in bed, packed up our winter gear and called our car up from valet. (Look at that yummy breakfast… you know that my favourite part was the coffee… mmmm!)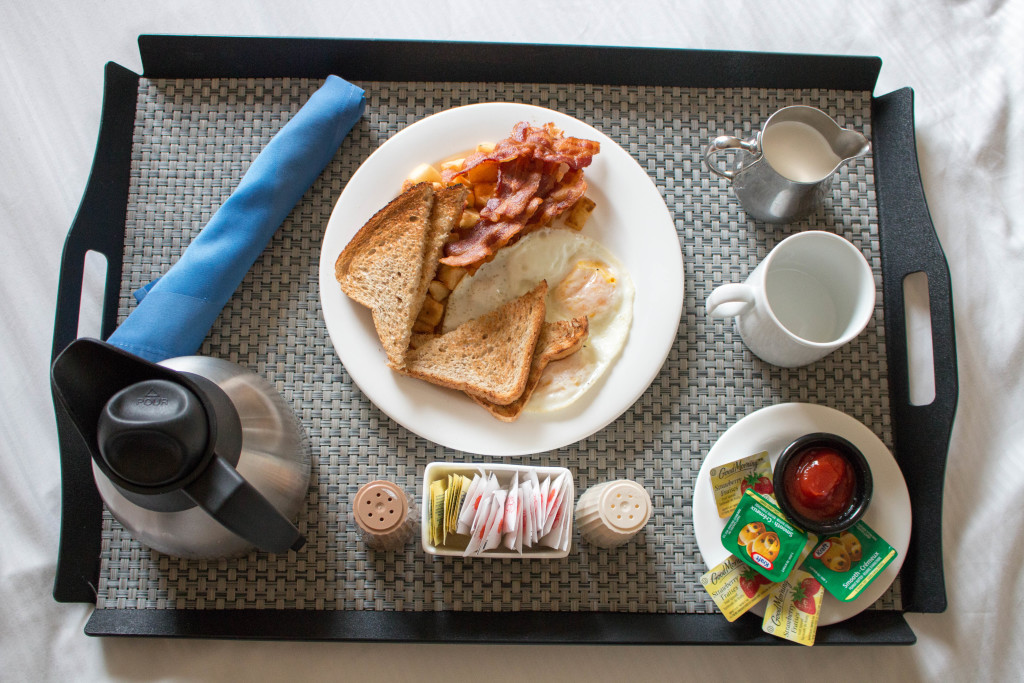 Mount St. Louis is about a 35-40 minute drive from CasinoRama, but we left an hour before my appointed ski lessons so we had plenty of time to get there and get geared up. The drive over was super easy and the areas that were lined with trees, on both sides, were my favourite. Before we knew it, we had arrived at the resort and my nerves kicked in.
The process at Mount St. Louis was remarkable.
The hill employs the Rossignol Experience Center, which handles all of their equipment rentals. The entire process is step-by-step and runs really smoothly. You start with a rental liability sheet, you move over to get your ski boots, then a locker (small rental fee but definitely worthwhile), then your skis, then your poles and then you're out the door and looking out at the hill before you know it.
My most favourite part about this process was the staff.
At each station, they had helpful staff who were more than willing to answer questions (and trust me, I had plenty) and who were super friendly. One of the staff members we encountered even shared a funny story with us and I appreciated that as it helped to calm my nerves immensely.
After getting suited up, we headed outside and I came face to face with the mountain.
Needless to say, I was terrified.
Mount St. Louis is a great hill for beginners though. It has 36 runs and 35% of those runs are for beginners. 50% of them are good for intermediate skiers and 15% are appropriate for experts. The vertical drop on the mountain is 550 ft and yes, I did go up as high as I possibly could on the mountain.
Before I could think about taking a chair lift up the mountain, I needed to partake in my ski school lessons.
Ski school was super easy to find as there were signs everywhere directing you toward ski school. The resort is well set up for this, too. They have an area designated for lessons and there's a small hill to learn snowploughing on and then a larger hill, with a magic carpet lift, to practice your downhill skiing.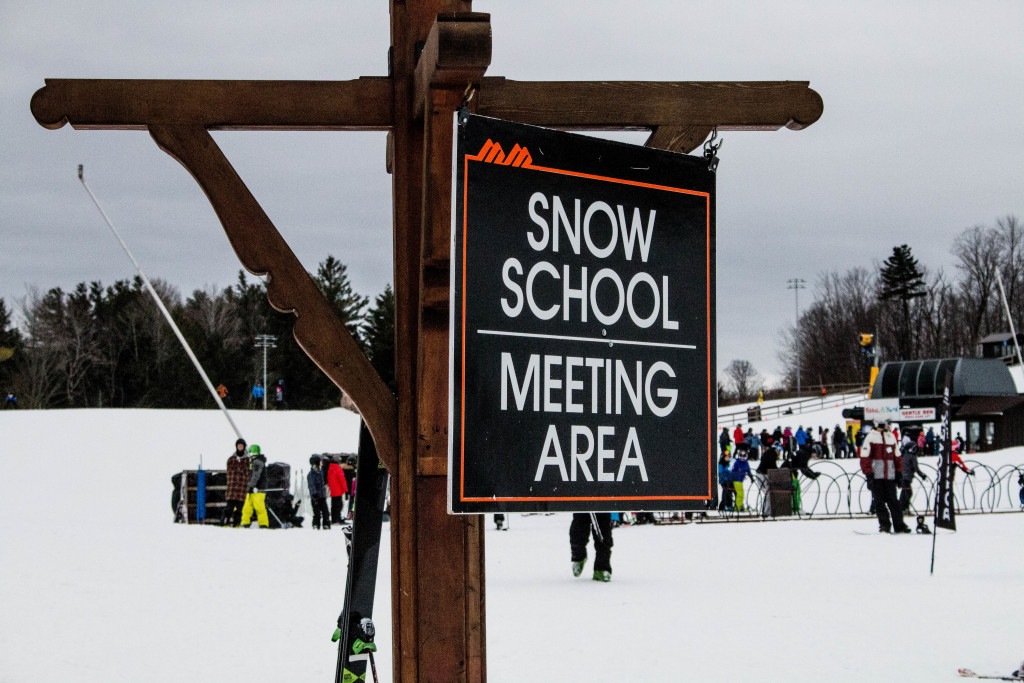 Ski school was great. Our teacher was this really sweet lady who was tough but fair. She kept everyone in line and made sure we were all paying attention. She showed us how to properly do the snowplough and we each had to take turns doing it down the practice hill.
Let's just say, I nailed it! Snowplough = success.
The next part of our training was to take the magic carpet up the practice hill and ski down it. I did that a couple of times and then, I was ready. I really hope that the mountain doesn't get upset here BUT… I totally ditched ski school after that. My confidence was soaring, what I had learned before came back quickly and I was growing restless so to the chair lift we went!
(Full disclaimer: I was skiing with someone who had plenty of experience on a mountain so I felt comfortable with him being able to teach me what I needed to know as we went. If you're by yourself, STICK TO SKI SCHOOL!)
See that confident face up there? Oh yeah… hill time.
We decided to start our day on Gentle Ben. It's a green hill, which means that it's perfect for beginners and Gentle Ben really is a great practice hill.
I won't lie though — I still panicked when I got to the top of the hill and realized that I actually needed to ski down it… but once I got the hang of the turns and figured out that larger S's (the back and forth motion you do across the entire hill thus annoying every other skier on the mountain… haha!) made me go slower, I was much more confidant that I could make it down alive.
And… I DID.
I only fell once and recovered so fast that I'm certain nobody even saw me fall. Okay, someone probably did from the chair lift or something (because that's what everyone does from the chair lift, right?) but I felt pretty good about my recovery time.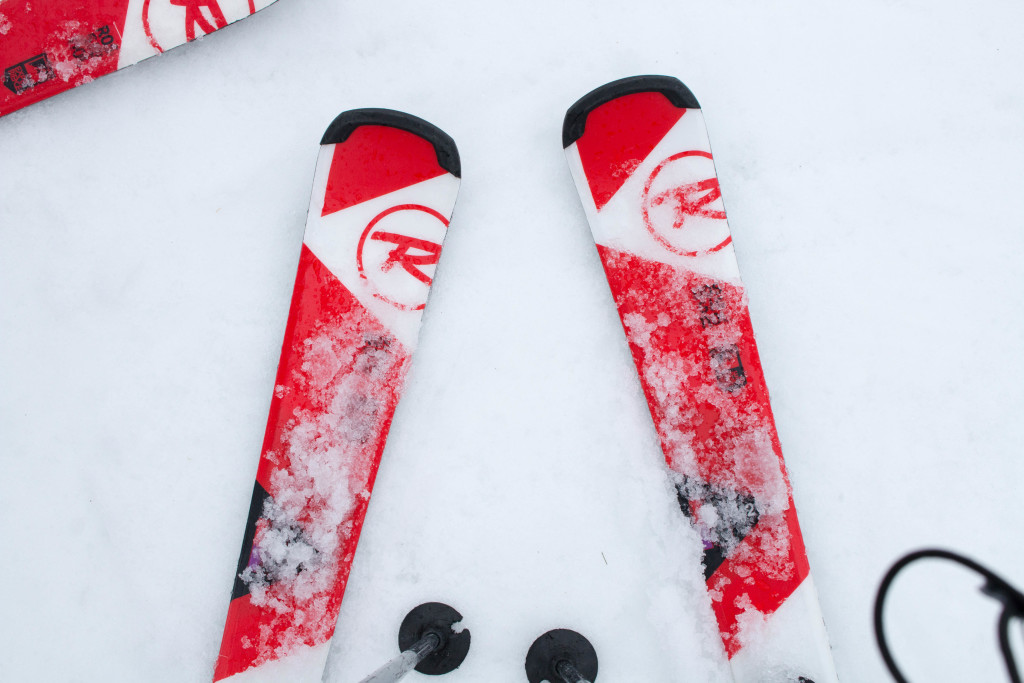 We ran Gentle Ben a few times before moving on to Sundance (also a green hill.) Then, when my confidence levels got REALLY high, we decided to take the crossover to Moonstone, which requires you to go down a blue run. We took the North Peak Run to the Moonstone Crossover and this, my friends, is where I nearly vomited (kidding… but seriously, as a beginner it took everything in my confidence wells to go over that first steep hump!) Here's a map if you'd like a visual of the runs I was doing.
But… I DID IT, TOO!
We skied all the way down to the bottom and took the lift back up to the Crescent trail, which turned out to be my FAVOURITE as you go through this tree-lined area, which makes it feel like you're taking a hike through the forest. Except your hikers are skis and you're flying at a much higher speed. I could have done that run all day.
Around 2:30pm, we headed into the chalet for some coffee and orange juice. My body was starting to feel the effects of skiing and I was THIRSTY. The coffee was good and the atmosphere in the chalet was infectious. I can see why people return to ski resorts every single weekend.
After our coffee break, we decided to return to the left side of the mountain and head back to Gentle Ben — the first run of the day. My ski partner had a great idea — he said that if I returned to the hill where I started, I would get a really good idea of how far I had come that day. Sometimes to realize your progress, you need to go backward, you know? So, we did.
And, I totally killed my run on Gentle Ben.
I wish I had brought my dad's GoPro camera because it would have been fun for you guys to see my first ski of the day and my last ski of the day. I made such incredible progress. My confidence, when I left that place, was not only soaring due to the dissolution of old fear but because I had taught myself a new skill and succeeded at it. I bailed three times total but even those weren't scary. I didn't get hurt and I had a fantastic time.
In fact, I texted with my sister and her boyfriend last night to plan a ski weekend away with them because… why not? I loved every minute of it and I can't wait to go back again and challenge myself further.
Thank you SO MUCH to the staff at Mount St. Louis for making this an unbelievable, therapeutic and exhilarating weekend for me. I was able to heal an old fear and replace it with something else — excitement and a winter sport that I can truly get into.
And, thank you to CasinoRama for providing this wonderful ski and stay package at your resort. It was the perfect way to get in some relaxation AND some excitement and I can't wait to book in next winter, too.
I'll be sharing more about my CasinoRama experience on the site soon, too, so watch for that.
xo